Inside the mind of a British rosé drinker
Updated: Apr 12, 2022
In preparation for the UK's painfully short rosé drinking window, I thought now would be the time to share some thoughts on this wonderful thing. For any readers outside of the UK it is essential to remember just how rubbish our weather is and just how much we Brits like talking about it...
Without bearing in mind the fact that the UK spends most of the year being cold and wet, but without the geography and climate needed to give us ski resorts to make it fun, it is impossible to get inside the mindset of a British rosé drinker. After months of travelling to and from work/school in damp darkness, what usually happens is spring pops into view and there is a week in March when temperatures soar to 19°C and we all turn the heating off, dust off our shorts and thank the Lord the bleakness has passed. Obviously, the following week you wake up to frost on the car windscreen and sleety snow in the air and you kick yourself for ever being so foolishly optimistic (whilst still defiantly wearing the shorts).
By the time June ends there will have been some unbelievably beautiful weather that mixes with the luscious green British countryside and creates a brief glimpse of heaven, before the rest of the summer limps along with drizzle and cloud at a tepid 17°C - apart from the three days in August where it reaches the mid-30s and we all complain about it being too warm and the rest of Europe laugh at us as the News reports the nation coming to a standstill and extreme weather warnings being issued. At least their laughing is not focussed on the two self-imposed 'B' words, as it is the rest of the year round...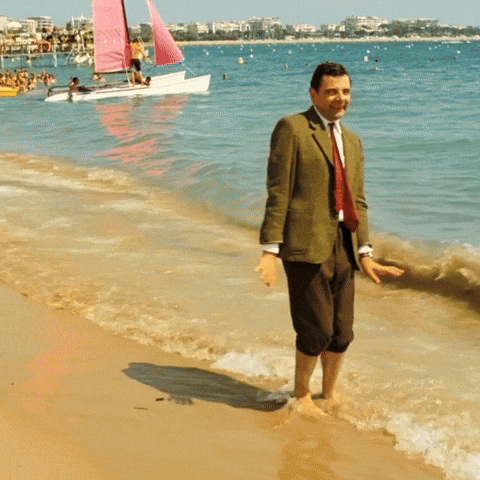 It is for this reason that rosé is more than just a drink to us Brits. It is a symbol. A symbol of fleeting paradise, of the season of holidays, of escaping the usual bleakness of reality. When a Brit opens or orders rosé it is not because they necessarily want the specific grape variety within or because it pairs well with the dish in front of them. No, it is a statement. It is us hollering to the world around 'I am relaxed. I am content. I am no longer stressed and miserable! I am on holiday and I will be happy!'
All of the above is why I cannot think of rosé in the same way I would a red or white. A Brit's fondness of any particular rosé is not really dependent on how good the wine was but on how good their wider reality was. This is why 100% of us would state with absolute certainty that a £6 bottle of supermarket mediocrity is far superior than a Château d'Esclans Garrus, if the former were drunk with friends at a hot Bank Holiday Monday BBQ and the latter in a restaurant in February.
However, I have done some off-season winter training when it comes to rosé drinking and have found that with the right sort of conditions and determined mentality, rosé can actually be used as a portal to a happier place regardless of your surroundings... It may have been December 2021 and gotten dark at 3:45 p.m. but I managed to summon enough mental focus and concentration whilst consuming a bottle of Corsican Umanu and a chorizo and prawn paella to completely convince my senses and emotions that I was actually sitting in Cannes' Palme d'Or restaurant with The Wine Show's James Purefoy and Matthew Goode (Season 2 Epidsode 3)!
So, a good rosé is not to be compared to a white or red. It is an art of its own that plays by different rules. A successful Rose is not to be defined by depth and length. Structure and weight can sod off. Rose should entice and enhance your imagination. It should transport you to a far-off place, somewhere you've been or want to have been. It creates an emotional awakening that celebrates those few moments of genuine summer joy that us Brits cherish and cling to throughout the miserable winter. Like the summer itself, a fine Rose should be fleeting and refreshing - dancing on the tongue and energising your palate. It is not hefty and haughty. It does not carry around the baggage of expectation or pomp and ceremony. Like a teenage summer holiday fling it should be inexpensive and without great investment, yet be something your heart and palate longs for in months to come and causes you spend the Autumn school term telling your mates how unbelievably fit this bottle you met in Tenerife was, like a wannabe Jay from The Inbetweeners.
So which rosé was more than just a wine to me? Which liquid summer fling trumped the beauty of the 'Orange Kappa Coat Girl' who took the attention of Damian's and my eyes away from watching Lilian Thuram's stonking winner in the 1998 World Cup semi-final? Which rosé has more majesty than the stunningly beautiful Italian goddess to whom merely talking in the Maltese sea was worth nearly drowning for? It's the Alpha Zeta Rosato Veronese 2019 (https://www.alphazetawines.com/)...
This is a wine I shall always remember. After the horrific news back in March 2020... that The Wine Society were closing their doors, this wine was one of the first I could get hold of as the warehouse began to reopen. A absolute saviour in time of strife. After a long day of stressful remote teaching and attempts to educate one's own volatile youths in the blazing heat of early summer, a few glasses of this flavoursome, charming, cheerful and cherry-scented corvina (also absolute value at £6.95 at the time) was a tonic like no other. Just a few sips and the pains of working out how to stop the Year 8s muting my mic, whilst also trying to convince my 5 year old daughter to stop doing Joe Wicks and Cosmic Kids Yoga and do some Maths instead were all a distant memory. Are there 'better' rosés out there? Sure. But none have carried greater symbolism in my heart in recent years – it shouldn't be possible to obtain such happiness for under £7!