Italian Reds - The Proverbial Bus of the Wine Club!
Updated: May 11
You spend ages waiting for one to arrive then two come along in the space of a few weeks!
For regular readers and followers it will come as no surprise that yet again the Wine Club are drinking Italian this week! However, this poses a slight problem in that it was only last month that my general thoughts on Italian reds were published and I wouldn't want to short change my readers by simply reposting under a different title! If you haven't already do take a brief look at the recent 'Why I love Italian Reds'. TL:DR – Italian reds are bloomin marvellous.
Therefore, this week we shall focus purely on the bottle we shall be drinking – The Baccolo Appassimento Rosso, Veneto 2020 from The Wine Society. This bottle is in the 'Greatest Hits – Cover versions' album case as an homage to the much loved Pasqua 'PassioneSentimento' Passimento Rosso, Veneto 2019 from Majestic. Both are made primarily of merlot with a bit of corvina thrown in, both are made in the appassimento method, both are from Veneto and both are stonkingly good value.
The Baccolo is a perennial favourite of Wine Society members who always score each vintage highly due to its ability to deliver far above its price point, offering powerful flavours for less than £7.50 - if you are someone who likes flavoursome but not overly weighty reds and likes to spend under £8 a bottle then you would be mad not to try this. It offers black cherry and leather with some spice developing towards the finish. Wise to open it up early and let it stretch its legs before drinking or it may taste a little grumpy.
The reason I love the idea of this bottle is that it represents the quest for the holy grail – the really affordable bottle at an everyday price that tastes as special as something Jancis Robinson would choose for her 50th. Like the real holy grail, its existence may be questioned by some and the quest for it is never entirely successful. However, when one gets even vaguely close it is still a hugely rewarding and satisfying experience. The Baccolo may not be the mythical Holy Grail but it is at worst a Pious Beaker.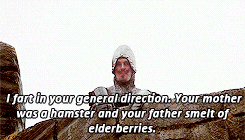 [Forgive me for meandering into footballing analogies once more...] Another reason this bottle excites me and has a place in my heart is that it also mirrors that truly wonderful and joyous thing – the over-achieving sporting minnows! The Baccolo is a wine that gets the most out of its limited resources and budgetary restraints to create a squad that perform in thrilling harmony and give the fans far more than they could have expected at the start of the drinking season. It is the Leicester City 2016 Premier League Champions, the Greece Euro 2004 team, Buster Douglas and the 1980 US Ice Hockey team.
However, it being an Italian red, it is probably best characterised as the 2016-2020 Atalanta football team... Both are small clubs who are trying to compete on the big stage and punch well above their weight, whilst neither are quite able to win the top prizes in their respective worlds - a Champions League win or a 1976 Paris Tasting victory are out of reach, however both are kicking down the doors of the big dogs and showing that they can run in some lofty circles. Just as Gian Piero Gasperini has worked wonders in transforming Atalanta into one of the most exciting and watchable teams on the planet, all with a budget smaller than the pocket money of an over-privileged teenager, so the Cielo e Terra Gruppo Cantine Colli Berici wine co-operative have put together an exciting and flowing red wine that will kill you on the counter-attack and costs less than 45 seconds worth of central heating. The symmetry between the two extends beyond merely being overachieving Italian underdogs. Both are proud of who they are and are committed to boldness and adventure. 'Cielo e Terra' aim to supercharge the Baccolo by passing it over dried skins and deliver a racy and in your face sort of wine. Gaspierini's team play in a supercharged, in your face manner and both are likely to win 5-3 one week and lose 4-2 the next. Here's hoping tomorrow the night is one when the Muriel, Pasalic, Zapata and co help FC Baccolo to thumping 5-2 win over Cagliari!