Welcome to The Wine Giant!
A minnow of the wine world, a giant of the real world...
Below is an introductory blog aiming to give a little background to how and why I've ended up starting this blog - if you think it sounds like something for you, please subscribe and share.
In a world filled with a seemingly never-ending list of problems I have arrived with the last thing it needs – another blog! Why do I think the internet needs more pages of thoughts and opinions from someone probably unqualified to offer them? A fine and valid question. I think it important to make clear from the outset of this possibly fruitless endeavour that the words and posts that will follow will, under no circumstances, prove to be of any real importance or value on a global or personal scale. However, that is sort of the point. The world is a very serious place with a lot of very serious things happening and we all try to escape this in our own varied and beautiful ways. Over the past couple of years enjoying and writing about wine has become my variation...
Like most of the world, my day-to-day existence was tipped on its head in early 2020 as COVID outdid any past (or present) dictators and showed them how to achieve world domination in an instant. My career as a teacher and hobbies playing or coaching sport were instantly thrown into disarray as I came to terms with the reality of 'The New Normal' and being house bound for months on end. An unexpected consequence to all of this was that writing about and drinking wine became my saviour (not in a 'Adam, this is an intervention' sort of sense). 'Saviour' is undoubtedly a huge exaggeration and a little perspective and self-awareness is always a good thing. In truth, lockdown was fine - compared to many I was extremely fortunate to have a secure career, a decent-sized garden, a strangely reasonable and easy to live with wife and two young children who were only annoying and unbearable for up to two hours a day. But the wine helped too.
Like many of us I quickly learned what Zoom was and engaged in countless quizzes with friends. After a few weeks when creative quiz rounds had been exhausted: Guess the price (sponsored by Right Move), Music mashups, celebrity childhood photos, catchphrases, complete the sports commentary and three thousand more. 'Anyone fancy a game of poker instead?' Phil asked. Little did I know then that this question would eventually lead to me starting a blog about wine.
One week of Wednesday Night Poker (as it is now officially known) turned into two and before we knew it a league system had devised, winner's bracelets were ordered, merchandise designed, data spreadsheets drawn up and spin-off clubs were being born like the club was catholic. WNP Book Club, WNP Film Club and, most pertinent to this site, WNP Wine Club.
To accompany our weekly hands of poker our diverse group of friends from across the UK, Bermuda and Chile would have various tipples and the conversation would inevitably turn to what each of us were drinking. Fairly soon we agreed it was time we all drank the same wine at the same time and after a good two hours of deliberation James and I settled on a case of 12. A brief preview of the first bottle was written, by the second glass we agreed a scoring system was needed and by the fourth the spreadsheet and self-populating graphs were set up and ready to go. Fast forward a couple of years and over 30,000 words on wine have been written but only shared with a twelve person WhatsApp group.
My online reading and research for each weekly WNP Wine Club write up has undoubtedly broadened my horizons and taught me a great deal and I am hoping to complete my WSET Level 2 in the coming months. However, in no way could I claim to be anything of a wine expert - a keen amateur at best. Nonetheless, I hope that the posts that will follow are able to offer something different to the casual wine enthusiast and drinker.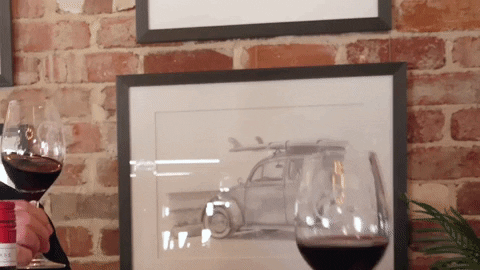 Much of what I see or read about wine can be fairly serious and is not always especially accessible to a layman. In my experience wine can be a daunting topic and one that seems able to attract the sort of unbearable wannabe snobs who like to rely on the assumption that the little they know about wine is a little more than you do and so blag their way through the conversation with the sole intention of making you think how clever and sophisticated they are, and how uncouth and primitive you are for not knowing that not all sparkling wines are called Champagne (picture that arse in the bar scene in Good Will Hunting when he's 40...). Of course, most people with an actual interest in wine are bloody lovely and do not even nearly fall into this category, but I am often left wondering if we are missing a certain type of writing about wine. Something a little more playful, casual and irreverent, yet still offering an element of wisdom that can be accessed by anyone, no matter their knowledge base.
A few lines from some early write ups that should hopefully give a little insight to the way my mind sees wine...
Billi Billi Shiraz, 2019 - 'Rather than come out swinging and look for the 1st round knockout. This 13% Aussie shiraz will work the ring, finding its range before an 8th round flurry leads to a predictable stoppage.'
Three Terraces Marlborough Sauvignon Blanc, 2019 - 'plenty of pizzazz on  the palate and a jazzy mouth feel that will excite and arouse. If paired with lively fresh flavours, a tomato, mozzarella and fresh pesto salad perhaps, you'll experience an effervescent explosion of energetic zing. Imagine Tigger on ecstasy, dancing on your tongue. But in a good way.'
Wine Society's Ruppertsberg - 'If an NZ SB is a racy, long legged and athletic stunner - Genie Bouchard maybe, and Chardonnay is a voluptuous figure with a big personality - Kelly Brook, then a Ruppertsberg is a mysterious natural beauty - a peak Gillian Anderson, perhaps.'
Chateau La Grave de Bertin 2017 - 'When I think of Bordeaux, I think of English football. Bordeaux invented the game, for a long time owned the game and looks down its nose at these new world clubs who probably do it better but have less 'history'.'